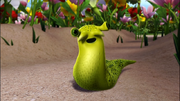 Slugs are animal related to Octopus and Squids. This mollusk lives on land in gardens and forest. They require damp places to survive. They been around since the Cambrian and still exists. Some slugs can be beneficial for the garden, other times they are not. There are predatorial slugs and they eat earthworms and other creepy crawlies. The most common defense for all slugs is that they have slime on there body, and when a predator attacks them they produce more slime to protect them from being eaten. A famous member is Sammy.
Members
Ad blocker interference detected!
Wikia is a free-to-use site that makes money from advertising. We have a modified experience for viewers using ad blockers

Wikia is not accessible if you've made further modifications. Remove the custom ad blocker rule(s) and the page will load as expected.