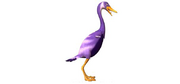 Hesperornis did not fly, instead , this bird lived in the water and was an expert diver and swimmer. They used their tiny flipper -like wings and powerful legs and feet to swim underwater. It lived in Western North America during the Cretaceous period. The most famous member of Hesperornis is Jess.
Members
Ad blocker interference detected!
Wikia is a free-to-use site that makes money from advertising. We have a modified experience for viewers using ad blockers

Wikia is not accessible if you've made further modifications. Remove the custom ad blocker rule(s) and the page will load as expected.