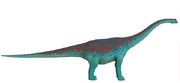 Argentinosaurus was an herbivore from the Cretaceous. Even though it was taller than an elephant, it probably fed on leaves close to the ground. Argentinosaurus lived during the Cretaceous in South America. The most notable of the Agentinosaurus is the Argentinosaurus family with Mr. Argentinosaurus and Arnie.
Members
Ad blocker interference detected!
Wikia is a free-to-use site that makes money from advertising. We have a modified experience for viewers using ad blockers

Wikia is not accessible if you've made further modifications. Remove the custom ad blocker rule(s) and the page will load as expected.