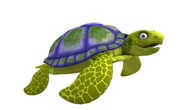 Archelon is a large Sea Turtle from the Cretaceous period. It ate jelly fish, and fish. It is the predecessor to the present day Sea Turtle. It had few predators because it is protected by there tough shell. It is a graceful swimmer in the water, but a slow poke on land. That is because like modern day Sea Turtles, Archelon must pull there body out of the water on to land during egg laying season. This turtle lays there eggs and leaves them to fate. Archelon is from Western Interior Sea during the Cretaceous period. Members currently is the Archelon Babies & Mrs.Archelon.
Members
Archelon Family

Archelon Babies
Mrs.Archelon
Ad blocker interference detected!
Wikia is a free-to-use site that makes money from advertising. We have a modified experience for viewers using ad blockers

Wikia is not accessible if you've made further modifications. Remove the custom ad blocker rule(s) and the page will load as expected.